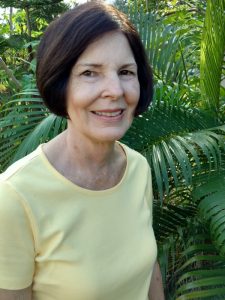 Marianne's son calls her the "mystic momma". One of her most distinctive qualities is the ability to create the lyrics and a song while sitting in silence during a Quaker meeting for worship. "I never had the experience of having a song come to me before", she says. "I did not know what to do the first time it happened to me. It was a powerful experience I knew I had to share. Although I argued with myself for a long time, I knew I was supposed to share my songs. It gives me goosebumps."
Marianne grew up in Southern California outside of Los Angeles. Her father was a carpenter. Her mother had 7 sisters and 3 brothers. Marianne's uncle was a minister who was well known in the Church of God and ran tent revivals and a church in Kentucky. "I'm Church of God non-Pentecostal", Marianne learned to say when growing up. But for her great great grandfather drifting away from religion, Marianne could have been raised Mormon. Her great great grandfather was one of Brigham Young's inner circle.
Wayne and Marianne met when Marianne was at UCLA. Her cousin introduced them. (Wayne went to a Quaker college for one year and was exposed to programmed meetings.) They married after college and moved to Portland OR so Wayne could go to graduate school. While Marianne got a teaching job with kindergartners, Wayne completed his graduate degree in social work. Once Wayne completed the degree, they returned to Southern California for 4 years and had their first son before moving to West Virginia.
A charismatic and pathological liar psychiatrist convinced Marianne and Wayne and others to move to West Virginia to be part of a clinic called Total Life. The vision was to have Christian professionals work together and provide services under a grant from Johnson and Johnson, but there was no grant and no clinic. Marianne and Wayne got other jobs for the 5 years they were in West Virginia before moving to Northern California (the Santa Rosa area) where they raised their family of 2 boys and a girl.
Marianne hurt her back while pregnant with her daughter and was limited in her ability to go out. For 15 years a minister ran a care group for 10 people in Marianne and Wayne's home until Marianne's back got better, and she was able to return to teaching. During this time, she and her brother, his wife, and two cousins formed an oldies rock 'n' roll band, The Passions, playing local parties and school events. She calls it a blast from the past!
When her back deteriorated again, she retired, and they moved to Kentucky where her son ran a church. Her son was trained as a Southern Baptist minister, was a senior pastor at a Methodist church and ultimately found the Mennonite faith most appealing to him. He, his wife and their children live in Harrisonburg Virginia, where Wayne and Marianne spend their time when not in Florida. Their other son lives near Santa Rosa and their daughter is in Denver.
The journey to Fort Myers Quakers began with Marianne's Google search for "socially involved churches". She had never been to a Quaker meeting and was intrigued. Not knowing what to expect, she thought she'd find people dressed like the man on the Quaker oats box. Nancy M was the first person Marianne saw when she entered the meetinghouse. Nancy's flaming red hair and leopard print dress reassured Marianne she'd fit in.
The silent meeting for worship perfectly suits Marianne. She would not go to a programmed meeting. There is a Quaker meeting near Harrisonburg, but songs do not come to her there. Until she found the Quakers, she says she has never been part of a church where she felt nurtured. She has found nurturing and her songs at Fort Myers Quaker Meeting.