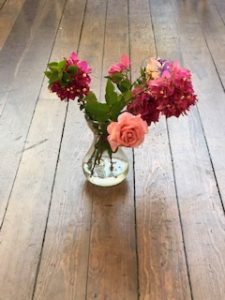 We, the community of Friends at Fort Myers strive to deepen our inner relationship with God and to answer to that inner Light within each of us and all others. Meeting for worship – waiting worship – continues to be the center of our community's life.
Members
In this past year, we were pleased to welcome into membership Paul as a convinced Friend and Susan who transferred from Middletown MM (CT), NEYM. Several also joined our community as regular attenders. But there always is the opposite side of the roster – those who have left. We were saddened by the death of Bill, a retired dentist who, before becoming ill, had volunteered his skilled services to the impoverished Immokalee community. And very recently, we experienced the death of Larry Butler, the last founding member of our faith community and a gifted Christ-centered preacher. We also were saddened to see others move away from our community, and wish them peace and well-being.
Children in meeting
Since 2017, several families with young children have been attending. Initially, we felt challenged with the need to address caring for these children who were toddlers and pre-schoolers, in part because we currently do not have a room that can be dedicated to children. The solution is evolving and a minute was created: "We have small children who remain with us during the meeting for worship. We take seriously our role in supporting these children in their growth within the Friends' community. We welcome them and accept their soft sounds as vocal ministry." We continue to address the centering of both children and adults as each learns to accept the other's process. The Meeting continues to labor lovingly.
Outreach
We continue to consider questions surrounding outreach and our meeting place. Our Outreach Committee feels challenged in preparing outreach activities because it is unclear to whom we should reach out. Through queries and discussions, we hope to find a way forward. The Committee has established a website and is exploring ways of improving it.
Our Meeting remains committed to peace and social justice in various settings. We continue to participate in the organization L.I.F.E (Lee Interfaith for Empowerment), which works to improve conditions for the community. We also continually collect for the Harry Chapin Food Bank and the Misión Peniel. Individuals from our meeting have taken on responsibility for regular transport and other assistance to those operations.
Spiritual growth
Finally, we continue to nourish the spiritual and social growth of our community. We sponsored several activities designed to deepen our spiritual lives including a retreat led by Tampa Meeting's Cece Yokum on "Strengthening Our Spiritual Resources", a series of Quakerism 101 workshops, and a workshop led by SEYM's Bev Ward on "Friends and Unity with Nature: What are you called to do?" We have created opportunities for social gatherings. Our monthly pot-luck following worship provides another opportunity for Friends to just sit back and enjoy each other.
We hope to remain faithful to that still small voice that urges us to take part in God's work, both as individuals and as a community of faith.
Approved 2nd Month 10th day 2019