The annual South Eastern Yearly Meeting gathering, held over Thanksgiving weekend (November 23 -26), again was celebrated at the Youth Camp in Wekiwa Springs State Park.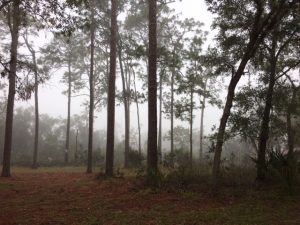 Chris Ruhnke, Vicki Scott and Pat Iyer traveled together to the event on Friday morning and left after meeting for worship on Sunday. We stayed in the youth camp which was tucked into the park. Vicki and Pat were delighted that the women stayed in the infirmary which had two bed rooms and heat. Chris stayed with his friend Mike who came from Dallas with two teenage boys from Thailand. Mike's first exposure to Quakers took place at the meeting. The boys enjoyed the exposure to the teenage girls who were present at the camp.
Our planned kayak trip was affected by the many trees felled over some sections of Rock Springs Run and the Wekiva River, making many parts impassible. Pat had an opportunity to experience what it is like to paddle against a current on Rock Springs Run, making her appreciate the still waters in SW Florida. But she appreciated the power of having Mike behind her, as he was better than an outboard motor.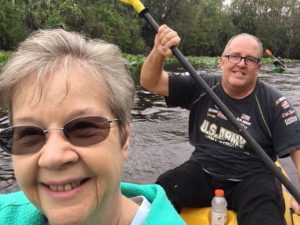 So named because this group of Quakers gets together mid year before the annual (or yearly) meeting, Half Yearly Meeting at Wekiwa Springs State Park had a minimum of structured activities but plenty of opportunities for hikes, swimming and canoeing, with an emphasis on connecting with our wider South Eastern Yearly Meeting community and ample time for personal reflection. Vicki, Chris and Pat enjoyed an extended hike in the woods after a morning of kayaking.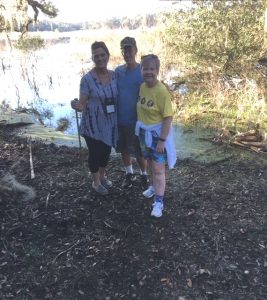 On Friday evening, there was a remembrance ceremony/workshop led by Jane Westberg and Kody Hersh, "Towards Right Relationship with Native Peoples." We learned about how the American Indians were systematically and persistently driven off their land. The impact of the workshop was powerful and highly emotional.
In sharp contrast to the seriousness of the Friday workshop, we had our annual NO TALENT NECESSARY talent show Saturday night, hosted by Vincent Cosomono and Aurelio Anderson. The show included gymnastics, violin playing, a play, poetry, singing and Quaker humor. After the show Saturday night, we had a campfire where we roasted marshmallows for s'mores, sang songs and told scary stories.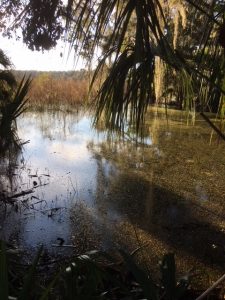 We ended the weekend with meeting for worship in a screened in building on the edge of a lake. Although we could see the cars passing on the edge of Wekiwa Springs State Park, we felt like we were in the middle of wilderness. It also felt like a little vacation and promoted an opportunity to meet Quakers from around the state.
By Pat Iyer and Carl Hersh, with additional contributions from Jerry Knutson, Beverly Ward and Miami Friends