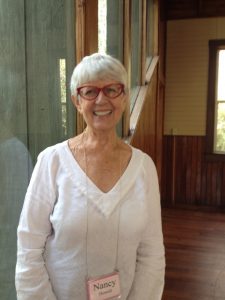 From Detroit to the desert, from Princeton to Toronto, Nancy has gone through many changes in her life. Nancy grew up in Detroit, the child of parents who had modest upbringings. Since both her parents were exposed to "hell fire damnation" churches, they make a deliberate choice to let their children choose their own religions. Nancy's neighbor introduced her to the Lutheran church, where Nancy went through a confirmation before drifting away as a teenager.
Nancy went to Brandeis University and then Harvard, and ultimately earned a PhD. She is a sociologist who married an anthropologist who had worked with Bushmen in the Kalahari Desert in South Africa. Nancy went to Africa where she took the reproductive histories of the Bushwomen during a two year stay. Her career evolved from this experience to one that was on the edge between anthropology and sociology.
Return to the United States
Upon her return to the United States, Nancy found the environment to be dirty, noisy and polluted. She accepted a job teaching at Princeton University. This occurred during the height of the protest era, in 1969 when students were daily protesting the Vietnam War. The protests created such a disruptive environment that Nancy and her husband Richard decided to move to Toronto. She delivered twin boys who received care in a day care located within a Quaker Meetinghouse near the University of Toronto, Nancy's first sustained exposure to the values of a Quaker community.
Nancy and Richard divorced when the twins were a year and a half old. Nancy continued to teach at the University of Toronto. When her twins were 14-years-old, they went on a trip to Africa with their father. Richard was at the wheel in an overloaded truck when he lost control and the truck flipped over. One of Nancy's sons, Alex Lee, and a graduate student, Melissa Knauer, who were riding on the roof of the truck, were killed. Her surviving son, David Lee, was injured and devastated by the loss of his brother. This tragic loss infuriated Nancy and led her to question a lot of aspects of life. She asked the University of Toronto for a leave of absence, and took her son David to Palo Alto where he enrolled in high school and Nancy went to the Center for Advanced Studies at Stanford. She stayed in California for 3 years before returning to Toronto.
David moved to New York after high school, where he worked as a musician, explored the city and ten years later decided to "join the family business" – to become a professor. Recently he has completed his PhD and is now teaching at the City University of New York.
Deepening Connection to Quakers
Nancy remarried at the age of 55 to a man she knew before she married her first husband, Andre Gunder Frank.   Their marriage lasted 4 years. Her second husband was instrumental in connecting Nancy with Quakers. He had gone to Swarthmore College (a Quaker based college in the outskirts of Philadelphia) and knew about Quakers. They began attending meetings for worship. Although her husband attended meetings for only a year, Nancy continued to participate after he stopped, feeling she had found her spiritual home.
The University of Toronto required its professors to stop working at the age of 65. When Nancy retired in 2004, she moved to Florida to be near her father, who was 93-years-old. He lived to be almost 100; Nancy got hooked on life in Florida. She put down roots in the Fort Myers Monthly Meeting. In comparison to the large Quaker community in Toronto, she recognized that the much smaller Fort Myers Monthly Meeting needed active participation from everyone.
From 2005 to 2009 she was active in counter-recruiting in the Lee County high schools, and from 2011-2014 she served as clerk of the meeting.
Quaker Values
The love of nature, simplicity and peace – these are the Quaker values that most resonate with Nancy. She expresses her simplicity values by not spending what she does not have and not getting caught up in consumerism. She is careful with her money and derives no pleasure from spending it.  She expressed the Peace Testimony even before she became a Quaker:  Nancy worked full-time in the Boston chapter of the SANE Nuclear Policy Committee at age 20, a group dedicated to eliminating nuclear weapons.
The sense of community is the most satisfying aspect for Nancy of being part of the Fort Myers Monthly Meeting. She enjoys living in a development with other members of the meeting (the Fennells and the Frechettes) and the sense of caring that exists within the meeting. Nancy would love to see the meeting eventually purchase a building to use as its own home, with expanded space for activities and first day school. She believes it would strengthen the community, attract younger members with families, and create a stronger future for the Meeting.