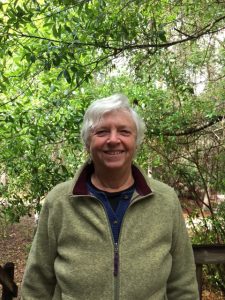 Helen embraced Quaker values long before she became one. She spent her childhood in Hyde Park, a neighborhood on the south side of Chicago that thought of itself as a liberal, integrated community but in reality, was quite segregated. She went to Hyde Park High School, which, by the time she graduated, was about 80% black and very diverse in terms of economic class. Some of the black students came from the area where Barack Obama lives, a wealthy, black enclave.
Many others were very impoverished; their families had been part of the Great Migration from the south that brought them to Chicago for jobs in the steel mills and stockyards. Blacks lived in very poor housing, totally separated from whites of any class. At school, black and white students were discouraged from mixing socially or educationally. This situation was troubling for many teens, yet few dared challenge the unspoken rules about race.
Brought up to be a skeptic by her atheist, cosmopolitan mother, Helen was encouraged to attend the churches and synagogues of her friends but at that point in her life, she did not identify with any particular religion.
After starting school early because of an October birthday and skipping a few grades, Helen was in college before she turned 17. She went to the University of California at Berkeley, which she chose more for its beautiful environment and its closeness to the mountains and the sea than for its rigorous science program. However, she did well, and graduated Phi Beta Kappa in 1964, just as the Free Speech Movement was beginning to roil the campus.
Peace Corps in India
While still in college, Helen married a fellow student. Right after she graduated with her degree in biology, she and her husband joined the Peace Corps. They were sent to India, to the remote area of Tripura, east of what is now Bangladesh (then East Pakistan). Helen became a science teacher at a junior college, teaching introductory biology and some of the science courses she had just completed at Berkeley.
Although her Indian students were excellent, Helen and several of her fellow Volunteers soon realized that the Indian school system relied almost exclusively on memorization. Students had little understanding or interest in applying what they had learned to the natural world. Helen and her husband managed to convince the Minister of Education to run a series of short courses (or inservice training) for elementary school science teachers from all over the State of Tripura. Groups of teachers came to the college for a month, where they learned to teach their young students the practical aspects of observing nature and doing science in the field. After training many teachers, she had the opportunity to visit some of them in their schools in the beautiful, remote jungle areas.
Helen's Peace Corps work coincided with the time that hostilities were breaking out between India and Pakistan. She and her husband lived close to border. War activity meant that kerosene and food were rationed, trenches were dug outside of the house, and windows had to be blacked out at night. Peace Corps finally evacuated the five Tripura Volunteers to Assam, and then on to Darjeeling, where they spent several months at a language school. Later, Helen became pregnant with her first daughter, who was born in Tripura after the hostilities had ceased.
Return to the U.S.
Helen and her family returned to the U.S. by way of Moscow, which in those days had few U.S. visitors. They then flew over the North Pole to Alaska, bought a car, and traveled to California via the Al-Can Highway, which at that time was a two-lane gravel road. Back in Berkeley, they decided to move to Boston, where her husband would attend graduate school. Although Helen was somewhat frustrated staying home with the baby, she was skeptical both of the Women's movement, which was active at that time, and of graduate programs that seemed both ethnocentric and disconnected from what she saw as "real life." Having seen dire poverty in India, she wanted to learn more about poverty in her own country.
Helen found a job at a Settlement House in Roxbury, where she started a program for preschool and school age children who had been rejected by the public schools. This was before public schools were required to allow children with disabilities and mental illness to participate in classrooms. Seeing the need for this school, Helen read all she could find on the topic at the library, talked to social workers and, with support from the Settlement House, began the program with a dozen children and volunteers from the community. It was a fascinating, if disheartening introduction to U.S. poverty, the welfare system, and the ways that public institutions were marked by race. Helen's involvement with the school took place during the era of Boston-area demonstrations against busing, the rise of Black Power, the Black Panther movement, the assassination of Martin Luther King, and of course, the Vietnam War.
Although Helen was not politically active in college, her experiences in India and Boston began to radicalize her. She became frustrated with the contradictory way her country was treating vulnerable people, both at home and abroad. The U.S. was promoting foreign aid through the Peace Corps at the same time it was bombing Vietnam, at that time one of the world's most impoverished countries. The U.S. government was sponsoring anti-poverty programs, but turning a blind eye to the needs of racial minorities, particularly their most vulnerable children. Finally, like many young adults of that era, Helen "dropped out," hoping to find an alternative route to a better world. In the process, she divorced her first husband, and, with her young daughter, moved into a commune.
Helen's second husband, an "intelligent drop-out" who she met in the commune, moved with her around the country for a while, finally settling in Quebec. There, they made a home in the countryside where their three daughters were raised to be bilingual in French and English. While enjoying rural life, Helen taught English as Second Language to adult French speakers while training herself to become a writer. She tried her hand at children's stories and plays, science writing for primary school teachers, and op-ed pieces on social issues for U.S. newspapers. She had little success getting published, but she persisted, papering her walls with rejection slips. After 15 years, her second marriage dissolved, and she was on her own with a teenager and a pre-teen.
Return to the U.S.
Helen saw that the only way she could support her family was to get a higher degree. Fortunately, she was accepted at a graduate program that turned out to be a perfect fit for her: The Center for International Education at the University of Massachusetts, Amherst. The program was designed for mid-career professionals, half of whom came from the Global South. Through her friendships with international students she became interested in cultural issues in academic writing, which became the focus of her doctoral research. After five years in the combined Masters-Doctoral program, she received her Doctorate in Education. Along the way she had many interesting work opportunities that included trips to Cote d'Ivoire, Togo, and the Solomon Islands.
Helen was relieved and excited to be offered a job in the writing program at the University of Michigan, and moved to Ann Arbor in 1991. During the next 22 years, she taught undergraduate courses in academic writing, race and racism, international development, human rights, and nonviolent social movements.
Helen was pleased to discover that getting published is much easier when affiliated with a university. She has since written a number of books:
Listening to the World: Cultural Issues in Academic Writing (based on her dissertation)
"When Race Breaks Out": Conversations about Race and Racism in College Classrooms (now going into its 3rd edition)
Their Highest Vocation: Social Justice and the Millennial Generation
Fractured: Race Relations in "Postracial" American Life (her most recent book)
Early on in her time at U of M, Helen was lucky enough to find Jim Koopman, a professor of epidemiology who also loved to travel and enjoyed the natural world. They have been happily married since 1998. Between them they have 5 adult children and 5 grandchildren. Helen and Jim live half the year in Bokeelia on Pine Island and half the year in Ann Arbor. Technology allows them to stay connected with colleagues and to carry on some of their work while here.
Introduction to Quakers
When she arrived at the University of Michigan in 1991, Helen was looking for group of friends who shared similar values. Some of her colleagues were Quakers, and soon they invited Helen to a Quaker meeting which was across the street from the university.
The first time Helen entered the meetinghouse she immediately found it appealed to her. The silent worship, the heartfelt testimony, the appeal to the mysterious, and the open, un-programmed nature of the Meeting spoke to her. She recalls a very old man who did not speak of God, but of visiting the cloud forest in Costa Rica and his awe of nature. She began learning more about Quakers and after a few years, she decided to become a member of the Ann Arbor Meeting.
Fort Myers Monthly Meeting
When Jim and Helen decided to spend six months of the year in Florida, Helen knew she needed to find a Quaker Meeting. Initially she thought the closest one was an hour and half drive, but then discovered the Fort Myers Monthly Meeting was only 45 minutes away. She immediately felt extremely welcomed and at home.
These are some of the Quaker highlights for Helen:
• Quaker antiwar and nonviolence values resonate with her. She has taught about nonviolence and the many alternatives to war.
• Quaker methods of clerking meetings are applicable to other situations in her work and civic engagement, for example, when she has been called to facilitate hard discussions around race, chair the Ann Arbor Human Rights Commission, or Clerk the Board of Friends School in Detroit.
• The Quaker history of speaking truth to power has helped her become an activist on controversial issues such as the Israel Palestine conflict and racial justice.
Although Helen formally retired four years ago, she continues to teach a mini-course on race in the fall at the University of Michigan. This gets her back in touch with students, whom she sometimes misses. But she is finding new interests and new friends at the Randell Research Center on Pine Island, where she is a Docent-in-Training on the Calusa Heritage Trail.