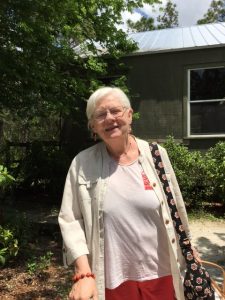 For many years, Norma had her feet firmly planted in both Pennsylvania and New Jersey. This Northeastern Quaker grew up in the coal mining area of Pennsylvania. She was born into a family from Lithuania and raised Catholic.
Norma went to Millersville Teachers College to become a teacher. She met Charles, also a teacher, a year after graduating and got married in 1963. Laughing, Norma said they had to get married. They wanted to travel together at a time when single teachers were not permitted to do that.
During the first 7 years of her marriage, Norma worked in teaching jobs in both New Jersey and Pennsylvania. "I kept the jobs I liked the most and were closest to where I lived." She also completed a Masters degree in Special Education and became certified as an Educational Specialist. She worked for the rest of her career on a Child Study Team.
When her first child, Aaron was born 7 years into her marriage, Norma stopped working full time. Her second child, daughter Roslynn, arrived 3 years later. Norma did not resume full time work until both children were in college.  Norma continued to be active in her profession; she worked toward certification in counseling.
Although Norma became a Quaker while living in Pennsylvania, her doubts about Catholicism began much earlier. Her uncle married a woman who was a Baptist. According to the Catholic Church, her aunt could not go to heaven because she was not Catholic. Norma had trouble reconciling this with her observation that her aunt did not smoke, drink or curse – yet Norma had Catholic relatives who did all of the above and were bound for heaven.
When Norma spoke to the priest about her doubts, he recommended, "Just have faith".
"They spoke to my condition", Norma said when she discovered Solebury, Pennsylvania Monthly Meeting. She found Quakerism made sense to her and became active in the life of the meeting. She was a First Day School teacher and involved with the Peace and Social Concerns Committee and a local Quaker children's camp. She embraces the concept that all men and women are equal in the eyes of God and is comfortable and happy being a Quaker.
Charles and Norma just sold their Pennsylvania home. They also own a place in Maine where they spend part of the summer. They live in Pine Island Cove, a senior citizen community on a canal. Norma laughs as she says she is a member of the Matlacha Hookers, a group that raises money for people in need. Both of their children are married and living in the Northeast.
Norma and Charles are the proud owners of Chloe, a miniature schnauzer who comes to meeting for worship. Their Quaker perspective has rubbed off on Chloe. He knows how to meditate.