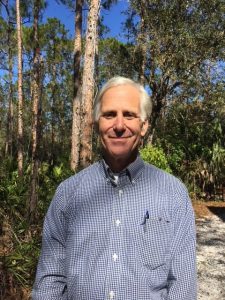 Chris R is a New Yorker, although he has shed his Long Island accent. He was born in 1956 and grew up on the south shore of Long Island surrounded by boats and water sports. He had a motor boat by the time he was 12. "The 60's were a wonderful time to grow up in the suburbs of New York", he says. Chris grew up in an extended family; his German grandparents lived on their property in a converted garage. Chris is the youngest of three, with his sister Donna and his brother Chip.
The family attended the Episcopalian Church, but the family was not particularly religious. Chris' mother made sure the kids went to church, but after they were confirmed, there was no pressure to continue to attend. His family were ardent Democrats who were liberal and antiwar, and worked in the Civil Rights movement.
Chris' mother stayed home to raise the kids. She loved to garden and cook. She entered the work force after the children grew up and became an executive secretary in Manhattan. Chris' father was a history teacher and a football coach who went on to earn his Doctorate. He taught at Baldwin High School. Chris attended that high school for a year before he transferred to an all-boys prep school in upstate New York called Millbrook. There he played football, and his team went undefeated his senior year, which is still a fond memory for him.
When Chris applied to colleges, he was delighted to get into Columbia University. After two years in the country, he was eager to move to New York City. At Columbia, he majored in Philosophy, and earned his Bachelor's Degree in 1979. Chris also developed his artistic abilities in figure drawing and landscape painting.
After graduating from college, Chris married an artist and they moved to Munich, Germany where Chris worked as a silk screen designer for a T shirt company. After the business failed, Chris' wife went to Berlin and he hitchhiked around Italy, where he lived for a while on a farm in Tuscany and picked grapes. (He denies ever stomping on grapes in a big barrel.)
When it was time to return to the U.S., Chris' wife stayed behind and became a punk artist in Berlin. Chris moved to Seattle where he lived with friends in a classical music commune. When he returned to New York, his wife came from Germany, and Chris got a job teaching in a Catholic school in the Bronx. This Catholic school was run by Marist Brothers who believe you should teach where the need is greatest. Chris is very grateful that he learned the craft of teaching from these good men.
After his marriage fell apart, Chris moved to San Francisco. There were no teaching jobs available, so he worked in a restaurant and worked his way from being a bus boy to a respected waiter in an upscale restaurant. He went through a divorce and his wife later contracted and died from AIDs associated with IV drug use.
Chris decided to move to Sarasota where his parents lived; he simultaneously worked in a restaurant and studied for a teaching degree. After work one night, he was intrigued by an ad for the Army that not only promised to help you be all you can be but to give you college money as well. So, he joined the US Army Infantry for 2 years with the condition that he wanted to be posted in Germany. He loved Germany and drove a Bradley in the Desert Storm war in Iraq. Since the Army gave Chris most weekends off, he bought a car and had a great time traveling around Europe.
Chris returned to Florida and used his college money to get a teaching certificate. He got a job with an ex Navy Seal in a school that combined academics with windsurfing and kayaking. This was his introduction to the sports, and he ran a kayak shop in Port Charlotte while taking classes for his teaching degree. He met Vicki S in these college years.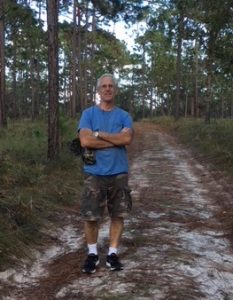 Next, Chris taught in a prep school in Sarasota where he noticed the sharp contrast between the spoiled kids who talked back and the military where people obeyed orders. He admits that this sometimes made him angry. He decided to seek out the Quakers because he knew that they had a peace testimony and that perhaps they could help him to deal with conflict in a loving and peaceful way.
Around this time Chris discovered the Baha'i religion and got deeply involved with their community. While he still loves the theory of the faith, he found their method of worship to be quite boring. He then met a woman who had been teaching in China, who put him in touch with a Baha'i recruiter for international schools. So, Chris investigated that and moved to China for two years to teach 4th grade Taiwanese, Japanese and Korean kids in a special international school.
Chris returned to Florida, started painting again, and got into substitute teaching, which he says he loved. He says, "I got pretty good at it. Although it was not well paid, it was great fun and it gave me lots of freedom and a fine quality of life." He also had an opportunity to live in Giverny, France for 2 summers to focus on his plen air landscape painting.
Chris retired from teaching at age 61. He is currently living at his sister's house with her husband and his mother. He wants to get more involved in discussing Quaker theology and practice. He knew within the first 15 minutes of his first Quaker meeting that this form of worship was a perfect fit for him. He loves the spiritual power of the unprogrammed meeting: "I believe that it is an ideal way to approach God, to love Him, to worship Him, and to serve His Noble Cause."