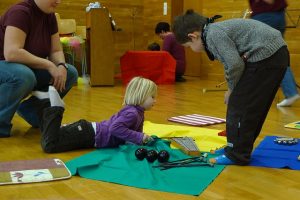 First Day School is the common Quaker term for spiritual or religious education for children. It is held weekly during the regular school year. The children leave the meeting room as a group with their teacher at the beginning silent worship.
The topics typically covered are the traditional Quaker testimonies of Simplicity, Peace, Integrity, Community, Equality and Stewardship geared to each child's level of understanding. The children then return to the meeting room for the last portion of worship with the adults.
If you are visiting with children, it is always best to call ahead to ensure that there will be a first day school activity on that day. Contact our meeting at 239-318-0538.